Drastic Total Solids Reduction with a 70% Reduction in Horsepower.
"We took 66,000 Gallons of sludge ready to be hauled and turned it into another 36,000 Gallons of useable liquor"
Pilot Specifications

Energy Efficiency (15 HP Taeration System)


| | |
| --- | --- |
| FLOW RATE THROUGH NOZZLE | 360,000gpd |
| GPD MIXING RATE | 43.2m/gpd |
| GALLONS MIXED PER HOUR | 1.8M |
| LBS OF O2 DELIVERED PER HOUR | 121.32 |
| LBS OF O2 TRANSFERRED PER HOUR | 13.35 |
| SOTE % | 11% |
| Kw/H | 12.0 |
| LBS O2 DELIVERED PER KILOWATT | 10.11 |
| LBS OF O2 TRANSFERRED PER KILOWATT | 1.11 |
This pilot was formulated to assess the effects of large volumes of Oxygen in a 100,000 Gal. Aerobic Digester and to evaluate its ability to reduce both hauling and energy costs. Specifically we were looking for Total Solids reduction and increased Supernate. Other compounds tested include: TSS (total suspended solids , TP (total phosphorous), VSS (volatile suspended solids), TKN (total nitrogen), BOD 5-day, Ammonia, Total Alkalinity, PH, and Fecal Coliform. It is worth noting that the 66,000 Gals. in containment had been fully decanted by the operator, and was ready to be hauled. Two base samples were taken, then a weekly analysis for the duration of the pilot. This digester was retrofitted with a 15HP Taeration System mounted in containment, on the catwalk.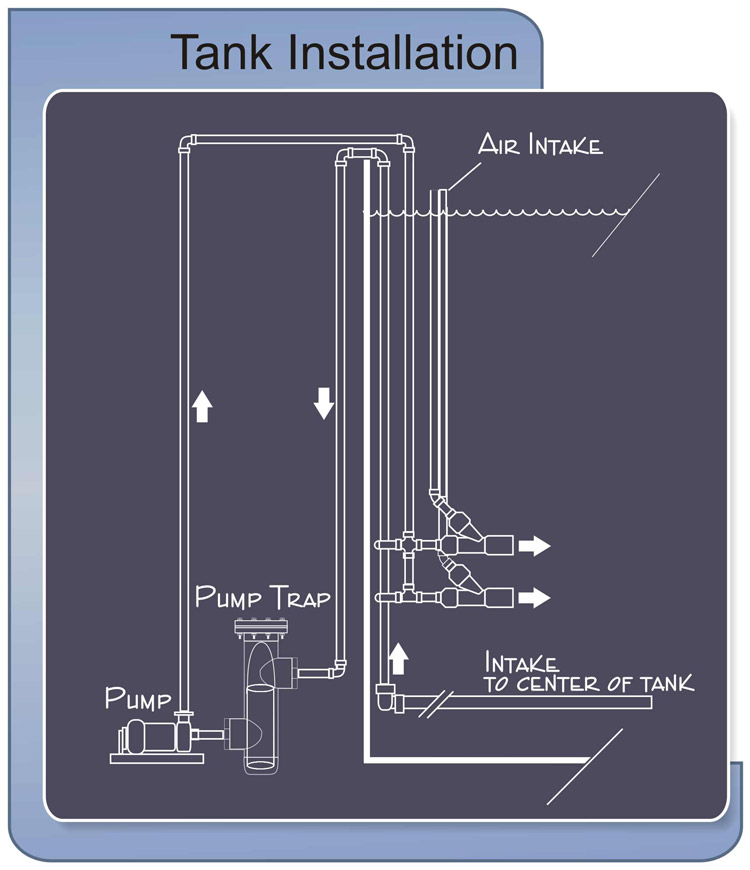 After 3 weeks of downward trending the Taeration System was turned off and the containment was allowed to settle from Friday evening to Monday morning. The results produced 36,000 Gallons of Supernate and reduced the TS to 1.5%. The chart below shows the reductions in other compounds tested. To be further noted, there was no detectable Fecal Coliform. The Taeration system will be evaluated by the EPA for the use in producing Class B wastewater effluent thus, allowing for direct land application without addition treatments such as Lime.
Click to view the before and after results of this pilot(pdf)
Results from Continental Country Club Aerobic Digestion Pilot
| | | | | | | | |
| --- | --- | --- | --- | --- | --- | --- | --- |
| | BOD | TKN | TSS | TS | VSS | Total Alkalinity | Ammonia |
| Before | 1030 mg/l | 8.35 %DW | 187000 ng/l | 2.01 %DW | 84.4 %DW | 1960 mg/l | 213 mg/l |
| After | 269 mg/l | 2.67 %DW | 131000 mg/l | 1.5 %DW | 74.5 %DW | 646 mg/l | 67.9 mg/l |